🤖 Tiny robots, RFID paper and stroppy couches
Big Kids Episode #3
👋 Hi Hello Hi to all of my new Tik Tok subscribers- it's good to have you here!
For platform nerds; I just switched to Substack from Mailerlite (I also use Mailchimp for my other weekly newsletter). Keen to assess the merits of Substack so let's see how it goes.
This episode is an excited jumble of curious web picks from the past few months. The next episode I'm working on is a 'calm tech' special edition, but for now, enjoy the mayhem of what follows!
---

Teensy tiny robots. They got me thinking. 
This month a team at the University of Pennsylvania shared news of their newly developed robot swarm; 1 million robots so small, they can only be viewed under a microscope 👀.
One of the major difficulties of building tiny robots is finding mechanical parts that are small enough. The UPenn team got around this by inventing a new teensy tiny actuator but anyway that's not the part that had me thinking. The thing is; small robots will probably have to work with other small robots, lots of them.
How will they behave?
Harvard Wyss institute looks at just this; swarm behaviour of 1-thousand-strong tiny robot teams working together. I've been wondering; what is to learn from human behaviour to inform robot teamwork- or do animals do it better? How is decision making distributed? Does one robot try to lead? Do they get shy around one another? Do injured robots get left behind? Things to think about …
---

My favourite playful web picks for the month
---

🙌 Something I wish I'd thought to make 
Meet the Moody Nest "A couch for stroppy people". Designed by Hanna Emelie Ernstring. If there ever was a piece of furniture for 2020; this is it.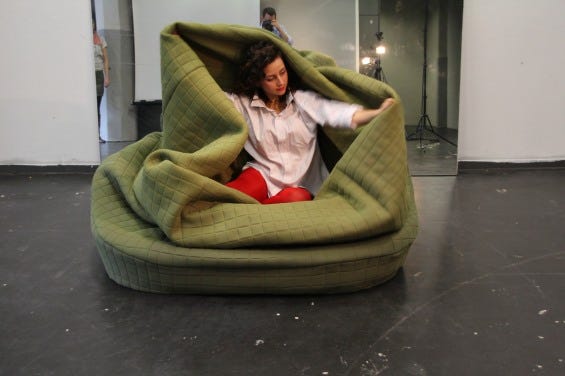 ---

Mute distracting notifications, grab a warm cuppa and find a seat in the sun. 
✨ The Pedestrian ✨ 1951, by Ray Bradbury
A short fantasy science fiction story about a talking police car and an innocent writer heading out for a stroll. This story inspired Orwell's youth prize winner, Jessica, who's short story you can meander over to next.
---
If you like this newsletter and found it's content useful, share it with a friend you also think will like it! If you're feeling particularly generous, consider buying me a virtual coffee 💖 This helps fund little experimental projects and software subscriptions.